PLACID PSC Saw Control
Saw control
Noise protection system Placid PSC
Overview
It employs Surface Acoustic Wave (SAW) technology to achieve accurate detection, analysis, and suppression of noise. The system is composed of a sensor array that is strategically positioned to pick up and record real-time noise levels within an area of interest. The recorded noise data is then processed by the system's advanced signal processing algorithms and analyzed to identify the specific frequency ranges that require suppression.
Features & Benefits
OPTIMAL PRODUCT GEOMETRY AND SURFACE AREA AT ALL TIMES
GREATER SAWING PRECISION
INCREASED LIFE SPAN OF SAW BLADES
UP TO 30% LOWER BLADE WEAR DUE TO CONSTANT MONITORING OF THE PROCESS
USE OF 1/3 THINNER SAW BLADES
LOWER CRITICAL STOCK
The framework is as of now utilized for wear location on roundabout and band saws. It is sold in 15 countries around the world.
The amount of money saved by finding sawing defects ranges from 30% to 70%! The lines' efficiency has increased by at least 30% as a result of precise monitoring.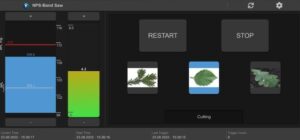 OPERATOR INTERFACE
The user interface, which lets the operator choose between different operating programs and keep track of the sawing parameters that are currently being used.
The current operating conditions can be seen in the graph on the left, and the blade's wear can be seen in the right graph. The blade ought to be changed when the upper level is reached.
NPS system management is on the right side of the graphical user interface. We can start or stop the measurement and select from a variety of pre-set operating systems.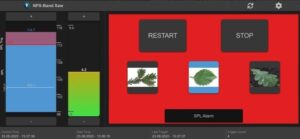 ALARM DISPLAY
Assuming an error during the cutting system occurred, the sound tension level (SPL) surpasses the caution esteem, and the framework becomes red to alarm the administrator. Additionally, the NPS system modifies the Relay Output (green connector), which is typically connected to the saw's control system.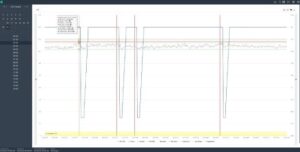 ADMINISTRATOR INTERFACE
The operating parameters' settings, statistics, and history can all be seen in the admin panel. A calendar with measurements from the past can be found on the left side of the page. Red dabs show when the irregularity happened. The latter facilitates error detection.